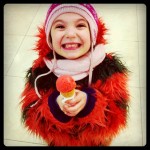 Our new site has just come together after months of work. The blog is up. It's an exciting time for us. So much work that lingered in random places over the past three years…and now it's all here.
We want your comments, your questions and reactions. We'll have something thoughtful, relevant and interesting to say here when we post. In the beginning, posts will not happen too often – maybe twice a month.
Ok, time to pop some corks, make some wishes and maybe play that orange ukelele we just bought.
A fresh face is something to celebrate.